Children free
Skipass gratuito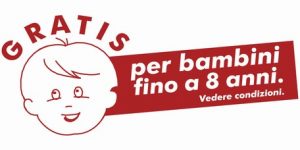 The child present at the time of purchase, born after 30.04.2015 accompanied by a family member, receives the free skipass (from 1 to 14 consecutive days) of the same type and duration of the one purchased at the same time as the family member paying the adult rate.
To obtain the free Skipass it is essential to show the identification documents (health card, tax code, family status) of the child and of the adult family member.
The cost of the unaccompanied ski pass is 50% discounted with respect to the adult Skipass.